Looking for sweet & simple cupcakes to please a birthday crowd? You've come to the right place.  My intention was to make them for Daddy's birthday before making them again for Little C's first birthday party in a couple of months (it's alright–my husband is a fully expectant guinea pig by now). And they were a success! Here's what I got for ya….
Components of THE CUPCAKE:
I used the vanilla cupcake recipe on the back of my Lehi Roller Mills flour bag. This recipe was exactly what I was looking for! How many times have I made a cupcake that was too crumbly, you ask? or stuck to the cupcake liner? Too many I say! Not this time 🙂
The chocolate filling I started with was this chocolate ganache, but it was way too dense and dark. I wanted something fluffier, more like a frosting or a mousse, so with some adjustments to the ganache, this was the final recipe I came up with. Actually, it reminded me of holiday fudge in both taste and texture, hence the name:
Fudgy Frosting & Filling
1 C heavy whipping cream at room temp
1 1/2 C semi-sweet chocolate chips
4 oz (1/2 cube) butter at room temp
2 C powdered sugar
1/4 C corn starch
1 tsp vanilla
Melt chocolate chips and slowly add cream, butter, and vanilla while whisking continuously. Allow to cool in fridge for at least 30 min, then transfer to mixing bowl and whip in the powdered sugar and corn starch until mixed thoroughly. Let it set overnight in the fridge for best results (in the piping bag is even better)! And honestly, if you prefer the ganache, then hit up that ganache recipe!
Here they are after I filled them with chocolate using the plug-the-tip-into-the-cake-and-squeeze method. I don't know the official term for it 🙂 It was tricky to squeeze the right amount before having a chocolate explosion…which happened about 95% of the time. Oops.
The cupcake frosting recipe I used is, in my opinion, the BEST cupcake frosting ever. It tastes fresh and creamy and isn't as heavy as a traditional buttercream, but not too light either. No wonder they call it the perfect cupcake frosting…I couldn't agree more 🙂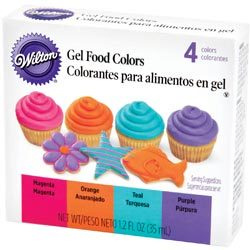 Here they are in their turquoise, sprinkled beauty:
As you can see, I tried a few different swirl styles using the star tip.
I popped a candle into each cupcake…just needed thirty more to make it accurate for hubby's birthday 😉
Had to (a) photograph the filling in all its glory and (b) taste test before serving (hard work, I know).
The filling on this one clearly got a leeeeetle out of hand. But when you need your sugar rush….you NEED your sugar rush.
I hope this post fulfilled all your birthday cupcake needs, dreams, wishes, and more! It sure hits the spot at our birthday festivities around the calendar at our home, and will be a good go-to combination of recipes for years to come.