Sorry, another food post. I can't help myself because it's officially pumpkin season and since I seem to be the only advocate in our household for infusing nearly all things with pumpkin (although, who knows, maybe Little C is very appreciative of the healthy dose she has been getting in her breast milk), I decided to share my latest favorite go-to recipes using this delightsome orange stuff:
Pumpkin Pie Smoothie
Through trial and error, I have come up with what seems to be the perfect pumpkin pie smoothie. At least I think so…and that's what really counts here, right? 🙂
1 cup pumpkin puree (I used fresh, but canned also works)
1-2 tablespoons agave, honey or sweetener of choice (I used 1 T agave and abt 12 drops liquid stevia…)
3 shakes All Spice (or pumpkin pie spice)
Whip up in the blender and enjoy!
Next is my adaptation of these cinnamon roll biscuits. Daniel had the day off last Wednesday, so I wanted to make him a special breakfast since he usually leaves quite early in the morning (…definitely before I eat breakfast).
I knew 4 things about what I wanted to make:
1) Something cinnamon roll-like
4) A recipe using self-rising flour…because that's all I had…since when I accidentally bought it instead of regular flour several weeks ago….
After some internet perusing, I found the recipe I needed. Well, almost.
I added pumpkin and then modified to account for the extra moisture the pumpkin provided, and I also modified the glaze to include cream cheese and more vanilla (a true cinnamon roll, in my opinion, has cream cheese in the glaze/frosting).
Here's the resulting recipe:
30 Minute Cinnamon Rolls
Yield: 6-8
Ingredients
2 pinches salt
1 pinch sugar
1 tablespoon butter, very cold
½ cup pumpkin puree (I used fresh, but canned should also work)
For the filling
3 tablespoons butter, melted
3 tablespoons granulated sugar
For the glaze
1 cup confectioner's sugar
1 tablespoon milk (I used vanilla almond milk – yum!)
Instructions
1.

Preheat oven to 475 degrees.
2.

Butter the inside of round cake and set aside.
3.

Cut shortening and very cold butter into dry ingredients of flour, salt and sugar.
4.

Slowly pour milks and water into your dry ingredients. Mix lightly.
5.

Pour dough onto a lightly floured surface and gently pat into a rectangle about 1/2 inch thick.
For the filling
6.

Melt the butter in a small cup or bowl and add cinnamon and sugar. Stir with a spoon and then spread over dough. Best if it reaches the edges of the dough.
A keeper for those special occasions that warrant a sweet treat
…or whenever a cinnamon roll craving strikes 🙂
On the other hand, here are a couple of lighter recipes I've liked:
And of course, this quick pumpkin choc chip cookie recipe never disappoints:
+
=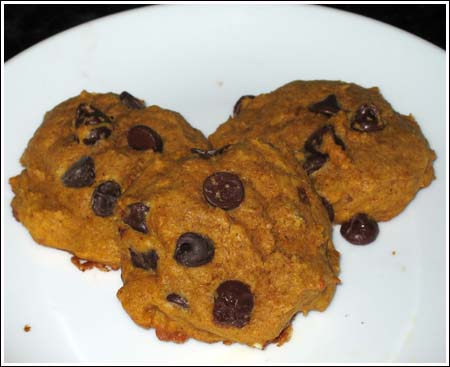 Get your pumpkin fix with spice cake mix + can of pumpkin + chocolate chips
Just combine everything and spoon onto a cookie sheet. Follow baking instructions for cupcakes on

the back of the box…although, I like to under-bake mine so they're a little more dense. Otherwise they will, of course, be cake-like. Personal preference. Store in the fridge…if they even last more than a day 🙂
And I'm sure I could find a million more pumpkin
recipes worth trying, but I'll stop there…for now…